The Mosses and Liverworts of Brecknock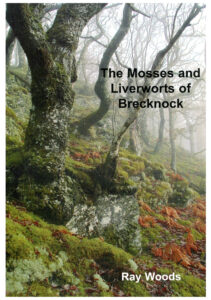 by Ray Woods (2006)
134pp, b&w and colour photos, drawings, maps, distribution maps. The first study to cover the bryophytes of the area of Watsonian vice-county 42, Brecknock (now mostly Powys). The study describes what is known of the distribution of Brecknock's 388 mosses, 151 liverworts and 1 hornwort.
Introduction, followed by the species accounts with distribution maps; interspersed with drawings, and enticing photos of habitats. A4 paperback .
ISBN 0954765915
Graham Motley provided an update in 2014 which can be downloaded below.
Update July 2021
Ray has a number of copies which he is willing to let people have for the price of the postage. If you would like to take advantage of this offer, please email him at raygwoods@aol.com