Bryology of North Wiltshire
North Wiltshire is a sparsely populated vice-county characterised by small villages and market towns distributed across gently rolling downs and clay plains. In the south, the imposing chalk ridge of the Marlborough Downs extends from Devizes and Calne in the west across to Berkshire . This ridge has many well-preserved archaeological remains, including impressive hill forts and tumuli, such as Cherhill, where mosses and liverworts typical of grazed unimproved chalk grassland are found. These include Neckera crispa, Weissia brachycarpa, Leiocolea turbinata and sometimes Rhodobryum roseum, on ant-hills. The remains of many chalk pits and quarries extend the range of species associated with the chalk to include Aloina aloides and Dicranella varia, whilst fragments of bare chalk may support diminutive Seligeria and Microbryum species.
Further north are bryologically dull and intensively farmed clay vales and beyond that the floodplain of the Upper Thames and the extensive area of gravel and sand extraction known collectively as the Cotswold Water Park. Air quality across much of Wiltshire is very good, and this is reflected in the good epiphytic flora to be found in many of the older woodlands, scrub belts and hedgerow trees. Large ash trees are frequent across the VC, and together with old elders and field maples can be a haven for many species, especially Orthotrichum: O. affine, O. lyellii, O. pulchellum and O. diaphanum can quite often be found together, sometimes with Ulota crispa, U. phyllantha and U. bruchii. Other characteristic epiphytes include Cryphaea heteromalla, Syntrichia laevipila, Frullania dilatata and Microlejeunea ulicina. Less common are Leucodon sciuroides and Neckera pumila.
North Wiltshire has three of only six sites in the British Isles for naturally deposited sarsen stones, all in the Marlborough area. These stones provide undisturbed hard acidic rock habitat in an area where it is otherwise absent, and a number of rare and uncommon species are present, including Hedwigia ciliata, Grimmia decipiens and G. trichophylla. Other southern rarities include Nogopterium gracile (Pterogonium gracile) and Orthotrichum rupestre. Some stones also support unusual saxicolous colonies of the common liverwort Frullania dilatata.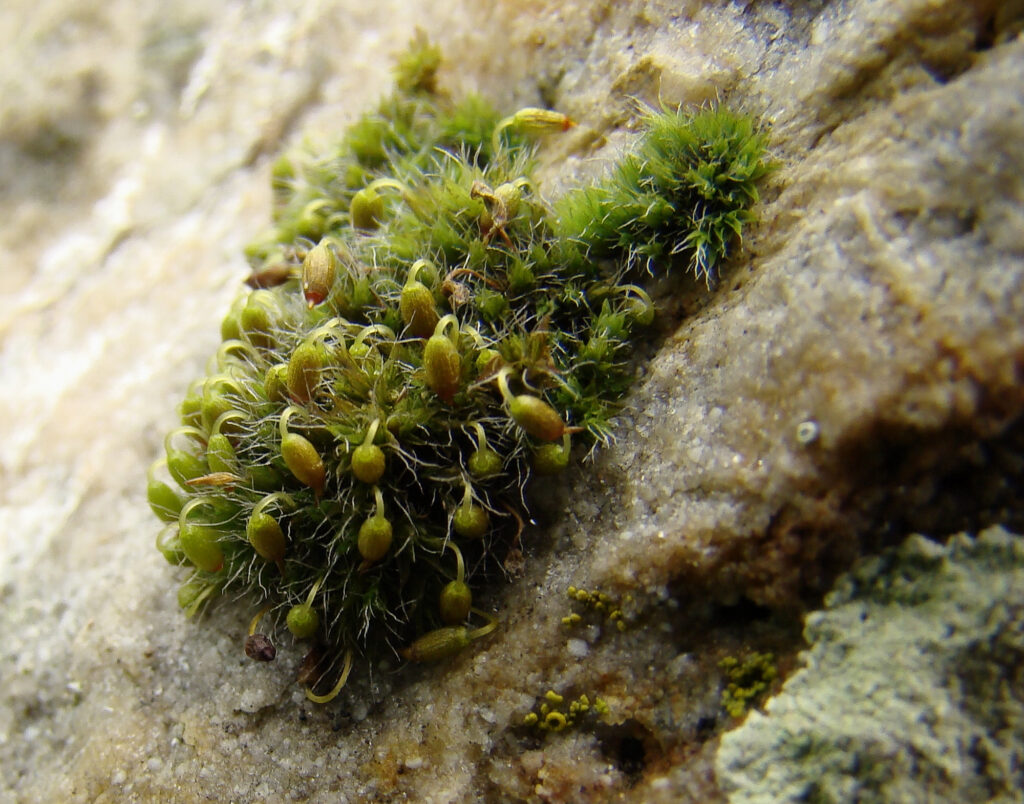 The VC has quite a low coverage of woodland, but large stands are present in the Marlborough area, especially at Savernake Forest and West Woods, both of which overlie clay-with-flints and are essentially acidic in nature. As well as supporting a rich epiphyte flora in semi-natural woodland, known rarities include Dicranum montanum and Fossombronia wondraczekii. Other woodlands have yielded Fossombronia crozalsii and the nationally rare Didymodon glaucus.
Much of VC7 is still relatively unknown in bryological terms and there must surely be exciting new records to be made.
Sharon Pilkington